About Custom Stoneworks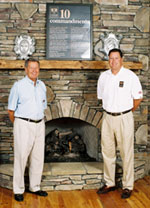 Started in 1990, Custom Stoneworks strives to impress with quality workmanship, outstanding stone products, and impeccable service. In the recent trend, more homeowners are exploring stone veneers as an option. We have a growing reputation based on production, installation and leadership giving the competition reason to pause.
Our workmanship emphasizes excellence and professionalism. Countless homes and businesses throughout North Carolina possess a crafted look only achieved with our exceptionally manufactured stones.
The natural look and feel of our stone is created by master craftsmen who have designed molds from carefully selected building stone. The use of iron oxide dyes provides the same variation in colors you see every day in nature. Construction time and cost is reduced with the use of these strong, but light weight products.
Our small company size and manufacturing facility allows control over the production process for customization to meet your needs. Custom Stoneworks is committed to make our customers comfortable through the planning process. We offer a selection of color and styles and the staff is more than willing to lend their expertise. The team strives to improve service at every opportunity as the business continues to grow.